Philips Avance AF Digital TurboStar HD9643 ( HD9643/11 ) withGrill Pan, Baking Tray & Double Layer Rack
Easy clean in 90 secs- QuickClean basket with non-stick mesh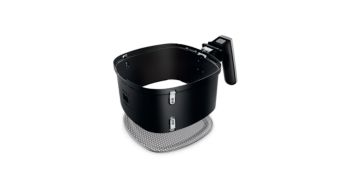 With Philips' Airfryer QuickClean basket which includes a removable non-stick mesh, cleaning becomes easier and faster. The removable nonstick coated drawer and the food basket are dishwasher safe for easy cleaning. Philips Airfryer with TurboStar technology saves you and your home from the smell of fried oil compared to a regular fryer.
Over 200 recipes in app and free recipe book included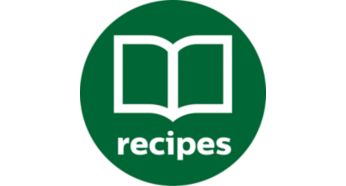 The Philips Airfryer app is free and filled with delicious recipes and easy to follow step-by-step cooking instructions. Get inspired with quick, healthy snacks or meals for special occasions.
Tasty food in less time: no pre-heating required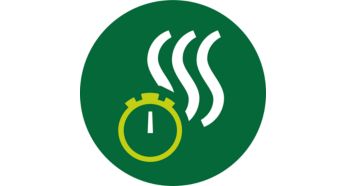 Philips Airfryer is ready to use immediately. Integrally faster from start to end it drives every day usage by superiority along the whole cooking process.
4 Presets for most popular dishes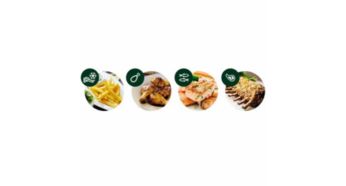 We created preset programs for popular dishes, so you can cook them with just one click. You'll enjoy the ease of our preset programs for frozen fries, meat, fish and drumsticks.
Cooks fried food 50% more evenly*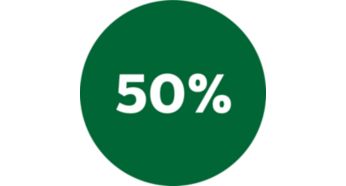 The unique TurboStar technology swirls hot air continuously through the whole cooking chamber, resulting in even heat distribution throughout the entire basket. "TurboStar achieves the most optimal airflow so food cooks 50% more evenly"
Large 0.8 kg capacity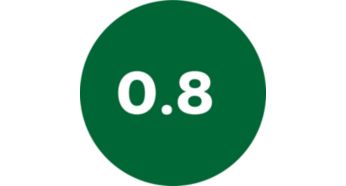 Airfryer has been thoughtfully designed for your kitchen. It allows you to save space on your counter top while still enabling to cook large amount of food (800 gr of fries).
QuickControl dial with digital display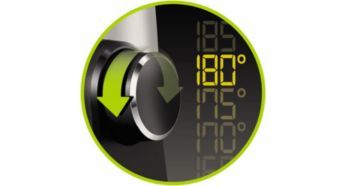 The new QuickControl dial is your main Airfryer control. Just turn it to set the right temperature, then click. Turn again to set the time – then click to start cooking.
Unique TurboStar technology for healthier frying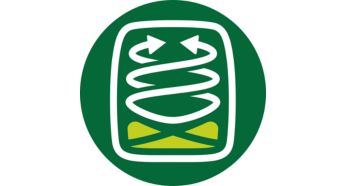 The unique Philips TurboStar generates fast superheated air to fry your food with little to no added oil. Philips Airfryer also creates less smell than conventional fryers, it is easy to clean, safe and economical for your daily use!
Universal EasyClick handle - easily exchange accessories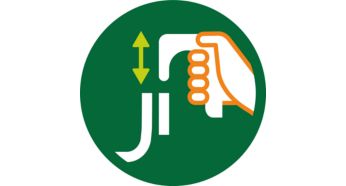 Philips' new universal EasyClick handle helps you mix and match the right cooking accessory and achieve the best results for your key dishes- every day. Additionally it allows for compacter storage after use.
Keep warm function for flexible serving time
Not just great for frying, the innovative Philips Airfryer with TurboStar technology also lets you grill, bake and even roast your favorite dishes for a one stop solution for all of your meals.
Grill pan accessory for more versatile recipes
Enjoy more of your favorite foods with the grill pan accessory. Perfect for grilling fish, meat, vegetables and more in an easy, quick, & healthier way.

SPECIFICATIONS
Accessories
• Included: Recipe booklet
Country of origin
• Made in: China
General specifications
• Keep warm function: 0.5 hour(s)
• Prefix programs: 4
• Product features: Automatic shut-off, Cool wall exterior, Non-slip feet, Patented Rapid air, Preset cooking function, Ready signal, Temperature control, Time control, Keep warm function, Quickclean
Service
• 2-year worldwide guarantee
Sustainability
• Packaging: > 90% recycled materials
• User manual: 100% recycled paper
Technical specifications
• Cord length: 0.8 m
• Frequency: 50/;60 Hz
• Power: 1425 W
• Voltage: 120 V
• Capacity basket: 800 g
Weight and dimensions
• Dimensions of product (LxWxH): 365x266x280 mm
• Weight of product: 5.5 kg
Design
• Color: Black & silver
Finishing
• Material of main body: Plastic
Already purchased this product? Write your review here.
Read more

Read less
/300
(this will only be visible between you and seller)
All your Q&A posts are available in My Page > My Shopping Talk > My Q&A History.
Once seller replies, you will be notified by email.
Your posts may be removed and PrestoMall reserves the right to suspend your account if inappropriate contents are found;

Any implication of direct trade / discounts with your contact number, email address, or any offline contact point.
Any indication of libel/defamation, inappropriate price comparison, unrelated ads, etc.
Seller's Information
Seller
Blip.my Official Philips Store
Shipping from
Return/Exchange address
Notice on Return/exchange
2 years international warranty by Philips Malaysia FOR ELECTRONIC ITEMS ONLY.
To claim warranty, please refer to the Philips service center below:
R-Logic Sdn Bhd
Lot 2C, Jalan Kilang 51/206, 46050 Petaling Jaya, Selangor Darul Ehsan
Tel: 1800 880 180

For further clarification on the Philips Warranty coverage, please refer to Philips Warranty Policy and Philips Warranty Card included with the product.

Should there be any product discrepancy (missing parts, wrong item, damage product), please report to our customer service team within 24 hours upon receiving the item.

For returns:
Product must be in new, sealed, unused condition and returned in their original packaging (including accessories, warranty cards, manuals and free gifts). Packaging must not be defaced or damaged in any way.
Once the product is opened or used, the product is not eligible for return, refund and exchange.

All return products will go through an evaluation process up to 5 to 10 working days and BlipMy reserve the right to reject the items if return conditions as above are not met.
PrestoMall Return/Exchange Policy
Cancellation

Request for cancellation if product has not been dispatched after payment completion.
Strictly no cancellation for E-voucher after purchased.

Return

Request for return within 7 calendar days following delivery date.
Check seller's approval on buyer's request.
Buyer sends product in question to seller.
Seller receives and checks returned product.
Seller approves return and return is completed.
Strictly no return or refund for E-voucher.

Exchange

Request for exchange within 7 calendar days following receipt of delivery.
Check seller's approval on buyer's request.
Buyer sends product in question to seller.
Seller receives and checks returned product
Seller send new product to buyer, and buyer receives it, and exchange is completed.
No exchange for E-voucher purchased.
How to Request for Cancellation/Return/Exchange
You can request for cancellation after completing payment and if product has not been dispatched by then, cancellation request is approved and you can receive refund.
But, in case seller has already dispatched product, cancellation request can be rejected.
You can request for return after obtaining product, you should send the product in question to seller.
After seller checks if returned product is flawed, and approves your request, return is completed and payment is refunded.
You can request for exchange if wrong product is shipped, you should send the product in question to seller.
After seller checks if returned product is flawed, seller approves your request, and re-sends new product.
Criteria for Return/Exchange
You can request for return/exchange within 7 calendar days following delivery date. But return/exchange request cannot be made in following cases:
When request due to change of mind is made after 7 calendar days following delivery date
When product is used, destroyed or damaged
When tag attached to product is removed or package of product is opened and product value is damaged
When sealed package is opened or packaging materials are lost
When too much time has passed and product value has so decreased that its re-sale is not possible
When return/exchange request is made for customized product such as hand-made shoes or accessories
When components of product (including free gift) have been used or lost
When buyer did not follow instructions included in product
As e-voucher products are immediately sent to your e-mail, returns/exchanges are not available. Please take note of this before purchase, and input your e-mail address correctly.
As Mobile Top-up products are directly reloaded on your cell phone number, returns/exchanges are not available. Please take note of this before purchase, and enter your cell phone number correctly.


For any inconvenience regarding Cancellation/Return/Exchange, please email to [email protected] and we will do our best to help you.
Notice
Please note that, direct transaction with the seller without using PrestoMall payment service can cause problems such as; not receiving the product, receiving different product etc.
For sales products and contents registered by the seller, PrestoMall run by Presto Mall has no responsibility on any of the registered contents.