Midea 10KG Fully Automatic Washing Machine MFW-1050MV2 + Free Gift(worth RM299.00)


Capacity: 10kg
Tempered Glass Window
Stainless Steel Drum
Metal Body
3D Tornado Pulsator
3D Waterfall Washer
Magic Cleaning Filter
2 year general warranty
3 year warranty on PC control panel
5 year warranty on motor
Product details of Midea Fully Automatic 10KG Washing Machine MFW-1050MV2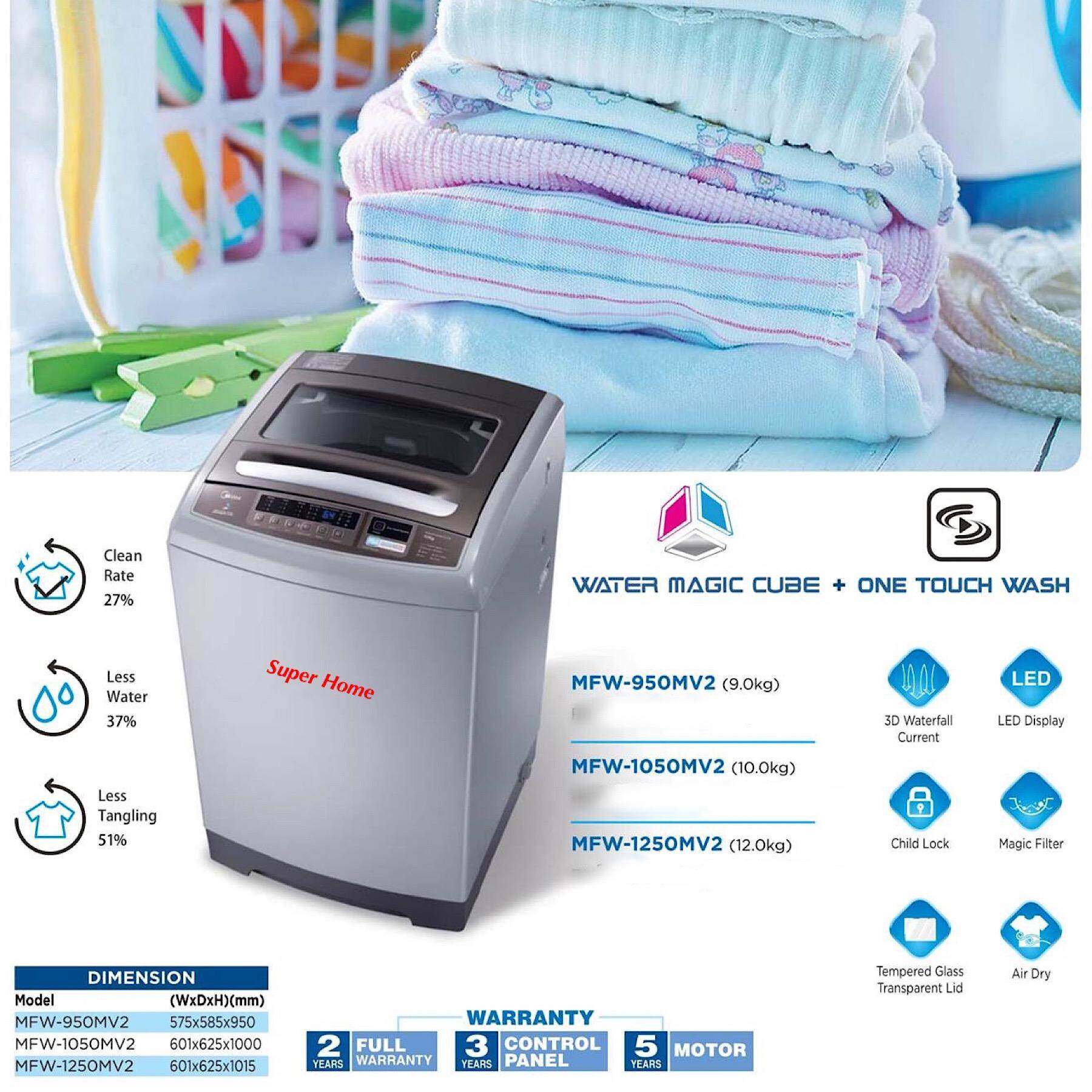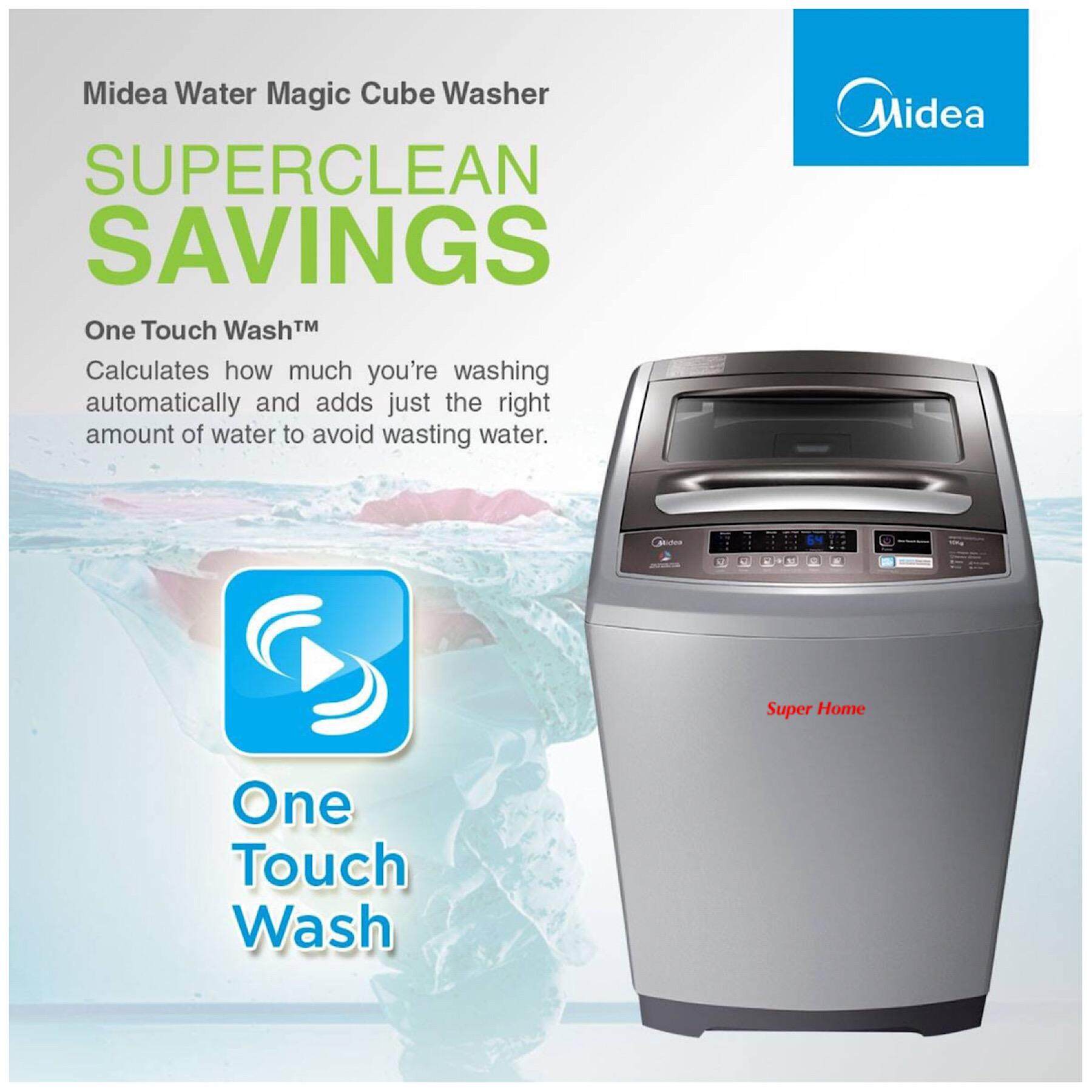 MFW-1050MV2 (10kg)
Tempered Glass Window

The transparent lid is a convenient feature. It allows you to check the status of your laundry without interrupting the cycle. The frost free material makes it easier to view the washing status.
Scratch-free and long lasting
Strong and safe as automotive
With standing wear and tear, long lasting.

Magic Cleaning Filter

The bag-type filter prevents soap and lint built-up in the laundry tub. The unique designed filter collects lint which can be easily removed and clean the lint.
35 times cleaner
Better collection for lint even when water level is low.

Power-off memory

Midea washing machines have a built in memory. If the washing cycle is interrupted mid-process, the washing machine memory will remember where the washing cycle stopped. When the power supply is back, the washing process will resume from the same stage.

Aqua Inner Drum

The unique designed drip shape allows clothes contact closely with inner drum's wall to enhance the friction between clothes and drum's wall, results a higher wash ratio.

Solved problem

Small dehydration holes prevent clothes being sucking in therefore reducing abrasion.
Solved problem: big and sharp dehydration holes suck clothes in and deformed clothes

3D Tornado Pulsator

S-Pulsator.
The unique impeller produces reciprocating flow, to accelerate clothing flip and wash evenly. Meanwhile, impeller has a lot of dense small holes to improve the dehydration rate, makes laundry becomes easy.

Water prevention lid

Possess opposite water jet spray which could form 360 degree spray and help to fully dissolve detergent, fully stir and toss clothes, especially work well on big clothing.

3D Waterfall Washer

The pulsator rotation speed generates strong and weak water flow, unique rotating water flow system combines both water flows to give an effective cleaning.
Specifications of Midea Fully Automatic 10KG Washing Machine MFW-1050MV2
What's in the box:
1 x Midea Fully Auto Washer MFW-1050MV2(10KG)

1 x Water inlet hose

1 x Drain hose

1 x Instruction manual

1 x Warranty card
General Features:




Color
silver
Model
MFW-1050MV2
Size (L x W x H)
60.1 x 100 x 62.5
Weight
45
Warranty Period
2 Years
Warranty Type
On-Site Warranty

2 year general warranty
3 year warranty on PC control panel
5 year warranty on motor
Already purchased this product? Write your review here.
Read more

Read less
/300
(this will only be visible between you and seller)
All your Q&A posts are available in My Page > My Shopping Talk > My Q&A History.
Once seller replies, you will be notified by email.
Your posts may be removed and PrestoMall reserves the right to suspend your account if inappropriate contents are found;

Any implication of direct trade / discounts with your contact number, email address, or any offline contact point.
Any indication of libel/defamation, inappropriate price comparison, unrelated ads, etc.
Seller's Information
Seller
My Super Home
Shipping from
Return/Exchange address
Notice on Return/exchange
At My Super Store, we strives to provide an amazing shopping experience and superior customer service. If for any reason you are not contented with your order, we gladly accept returns within 7 days after receiving the item from the date of shipment and in new, unused condition with original packaging. You must contact us at prior to return/exchange products to us. We will not process your refund or exchange request without early notification. Please refer to Return & Exchange for the terms as following:

Returned- Items must be unopened and in unused condition. The customer agrees to and is responsible for paying all shipping charges and incurring all fees associated with the return of merchandise purchased through My Super Store. Returns for adhesive merchandise that have had their backing removed, as well as items designed for one time-use, are not accepted. My Super Store makes no refunds on shipping costs for any reason. Returns are subject to validation by My Super Store. My Super Store reserves the right to limit and refuse refunds.

Otherwise please contact service centre for on-site warranty. Strictly no return after used/installation.

Email us : [email protected]
PrestoMall Return/Exchange Policy
Cancellation

Request for cancellation if product has not been dispatched after payment completion.
Strictly no cancellation for E-voucher after purchased.

Return

Request for return within 7 calendar days following delivery date.
Check seller's approval on buyer's request.
Buyer sends product in question to seller.
Seller receives and checks returned product.
Seller approves return and return is completed.
Strictly no return or refund for E-voucher.

Exchange

Request for exchange within 7 calendar days following receipt of delivery.
Check seller's approval on buyer's request.
Buyer sends product in question to seller.
Seller receives and checks returned product
Seller send new product to buyer, and buyer receives it, and exchange is completed.
No exchange for E-voucher purchased.
How to Request for Cancellation/Return/Exchange
You can request for cancellation after completing payment and if product has not been dispatched by then, cancellation request is approved and you can receive refund.
But, in case seller has already dispatched product, cancellation request can be rejected.
You can request for return after obtaining product, you should send the product in question to seller.
After seller checks if returned product is flawed, and approves your request, return is completed and payment is refunded.
You can request for exchange if wrong product is shipped, you should send the product in question to seller.
After seller checks if returned product is flawed, seller approves your request, and re-sends new product.
Criteria for Return/Exchange
You can request for return/exchange within 7 calendar days following delivery date. But return/exchange request cannot be made in following cases:
When request due to change of mind is made after 7 calendar days following delivery date
When product is used, destroyed or damaged
When tag attached to product is removed or package of product is opened and product value is damaged
When sealed package is opened or packaging materials are lost
When too much time has passed and product value has so decreased that its re-sale is not possible
When return/exchange request is made for customized product such as hand-made shoes or accessories
When components of product (including free gift) have been used or lost
When buyer did not follow instructions included in product
As e-voucher products are immediately sent to your e-mail, returns/exchanges are not available. Please take note of this before purchase, and input your e-mail address correctly.
As Mobile Top-up products are directly reloaded on your cell phone number, returns/exchanges are not available. Please take note of this before purchase, and enter your cell phone number correctly.


For any inconvenience regarding Cancellation/Return/Exchange, please email to [email protected] and we will do our best to help you.
Notice
Please note that, direct transaction with the seller without using PrestoMall payment service can cause problems such as; not receiving the product, receiving different product etc.
For sales products and contents registered by the seller, PrestoMall run by Presto Mall has no responsibility on any of the registered contents.