High Power Car Jump Start Power Bank (50800mAh) & Tire Inflate device, Combo in a box
Price including tire inflator
Fully Charged when purchased.
High capacity 50800mAHmAh with high power polymer battery is adopted for fast charging.
It can support an emergency jump start and entirely replace the included battery for a car startup.
It also supports general cellular phones charging and completely replaces products similar to mobile power banks.
With true powerful flashlight,three-function switch-over,emergency rescue,signaling,lighting,deterrence. defense and other powerful features.
It has a safety blade help you get out of dangerous situation
Five levels of power display indicate battery status,real-time recharging reminders,automatic shut down under no-load condition.
Over-current protects the device from overload,making it more convenient,safer and more energy-efficient.
It is the ideal choice for night shift workers,overtime workers and many others.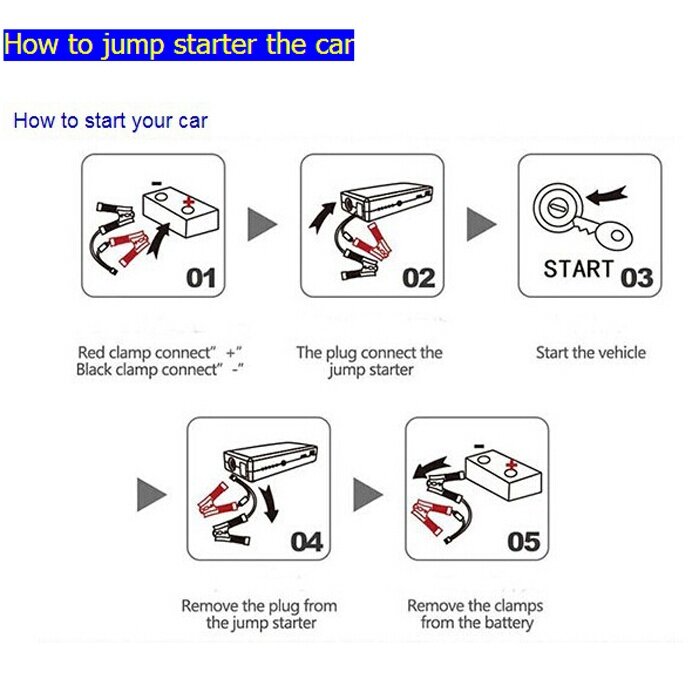 IMPORTANT NOTE:
* PLEASE DO NOT JUMP START ANY BIG POWER CAR/VEHICLE (TRUCK and LORRY), the jump starter will be burned
* It can only start gasoline below 5L 12v car
* if the cable + - was mixed, the cable will be short circuit
* If the positive and negative electrode was mixed, the cable will be burned
This will void the warranty!
* Please make sure the jump starter have enough power, at least 80%, before jump start the vehicle.
- If jump starter haven't enough power, that would make the battery over-discharge.
- Please do not store product under direct sunlight, or store at places with heat.
Specifications
Charging for mobile phones, starting cars, adjustable LED lights and SOS lights.

Multi-functional emergency kit that contains a car power bank.

Variety of chargers and jump lead that can give your car and your products the extra energy they need.

With a zipped case that also contains the adapter tips and power lead, this product will fit in your car to be used in case of emergency.

It uses high-power battery that supports fast charging, low self-discharge

It supports vehicles with 12V voltage or more. to start your car, firstly you should connect the power bank with the battery holder and then connect the negative and positive connectors of the holder with your car battery.

There are a variety of adapters that be used to charge various mobile phones.

It has 3 different kinds of lighting modes - you can use the flashlight and SOS lights in the dark in case of emergency.
Package Included:
1 x 50800 mAh Multi-Function AUTO Emergency Start Power Bank
1 x Car charger
1 x Battery clip
1 x USB Tie line(2 connector for cellphone)
1 x (US/EU/AU/UK) wall plug charger suit for your country
1 x User Manual
1 x Air Compressor
1 x Portable plastic box
Product Detail: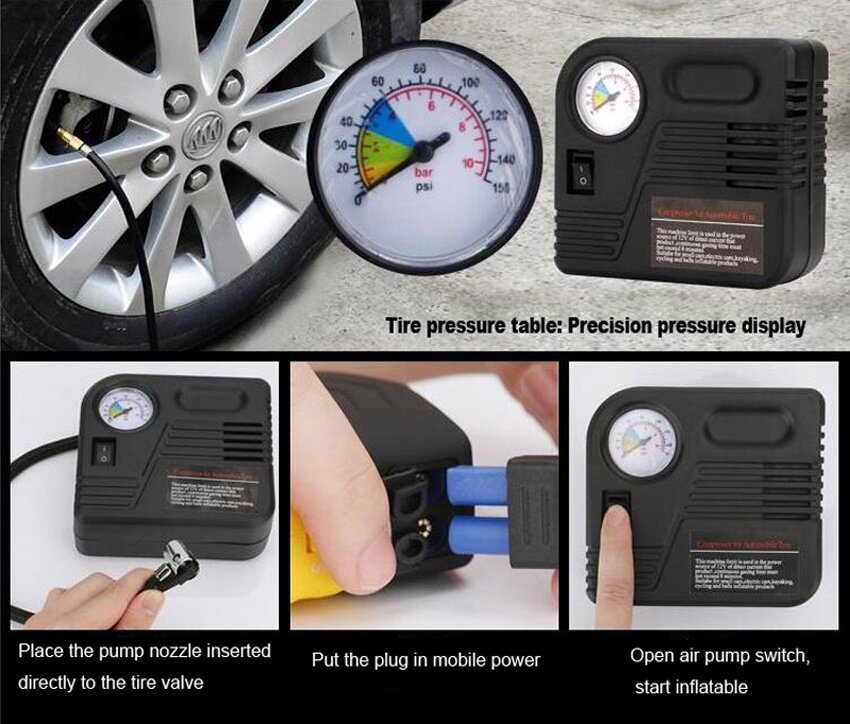 Already purchased this product? Write your review here.
Read more

Read less
/300
(this will only be visible between you and seller)
All your Q&A posts are available in My Page > My Shopping Talk > My Q&A History.
Once seller replies, you will be notified by email.
Your posts may be removed and PrestoMall reserves the right to suspend your account if inappropriate contents are found;

Any implication of direct trade / discounts with your contact number, email address, or any offline contact point.
Any indication of libel/defamation, inappropriate price comparison, unrelated ads, etc.
Seller's Information
Seller
3Q Accessories
Shipping from
Return/Exchange address
Notice on Return/exchange
If you received your order items with any defect/wrong item received or size related issue. Kindly inform us at [email protected] or WhatsApp +60173818197 (Ms Kong) within 24 hours after you received it. You should provide the information such as Order No., Your name, Contact number, Photo of the relevant products and reason of return for further processing. We will get back to you within 24 hours. Your exchange or return will be approved subject to size availability and stock availability. If we do not have the preferred size in stock, you will be given the same value credit to purchase for the item in our store.

You must send the item back to us within 7 days upon you received our reply. We will only bare the postage fees for the return items have defect or accidentally sent the wrong items to you. However, for exchange size request, Customer have to bear the postage fees. A RM5 administration fees will be charged per order/per transaction.
Additional information:
- All goods sold are not refundable.
- Sales item are not eligible for returns or exchanges. No exception will be made.
- Defective items are eligible for return shipping reimbursement
- Please ensure that all return items must NOT be worn, altered, or washed.
- The packaging should be in original condition in original shipping container as received.

The returned goods/products will be checked with the receipt together and the goods should be in the good condition. Returns received in damaged or used condition will not be processed.

If the goods/products has been used or damaged by the customer, there will not be any refund
PrestoMall Return/Exchange Policy
Cancellation

Request for cancellation if product has not been dispatched after payment completion.
Strictly no cancellation for E-voucher after purchased.

Return

Request for return within 7 calendar days following delivery date.
Check seller's approval on buyer's request.
Buyer sends product in question to seller.
Seller receives and checks returned product.
Seller approves return and return is completed.
Strictly no return or refund for E-voucher.

Exchange

Request for exchange within 7 calendar days following receipt of delivery.
Check seller's approval on buyer's request.
Buyer sends product in question to seller.
Seller receives and checks returned product
Seller send new product to buyer, and buyer receives it, and exchange is completed.
No exchange for E-voucher purchased.
How to Request for Cancellation/Return/Exchange
You can request for cancellation after completing payment and if product has not been dispatched by then, cancellation request is approved and you can receive refund.
But, in case seller has already dispatched product, cancellation request can be rejected.
You can request for return after obtaining product, you should send the product in question to seller.
After seller checks if returned product is flawed, and approves your request, return is completed and payment is refunded.
You can request for exchange if wrong product is shipped, you should send the product in question to seller.
After seller checks if returned product is flawed, seller approves your request, and re-sends new product.
Criteria for Return/Exchange
You can request for return/exchange within 7 calendar days following delivery date. But return/exchange request cannot be made in following cases:
When request due to change of mind is made after 7 calendar days following delivery date
When product is used, destroyed or damaged
When tag attached to product is removed or package of product is opened and product value is damaged
When sealed package is opened or packaging materials are lost
When too much time has passed and product value has so decreased that its re-sale is not possible
When return/exchange request is made for customized product such as hand-made shoes or accessories
When components of product (including free gift) have been used or lost
When buyer did not follow instructions included in product
As e-voucher products are immediately sent to your e-mail, returns/exchanges are not available. Please take note of this before purchase, and input your e-mail address correctly.
As Mobile Top-up products are directly reloaded on your cell phone number, returns/exchanges are not available. Please take note of this before purchase, and enter your cell phone number correctly.


For any inconvenience regarding Cancellation/Return/Exchange, please email to [email protected] and we will do our best to help you.
Notice
Please note that, direct transaction with the seller without using PrestoMall payment service can cause problems such as; not receiving the product, receiving different product etc.
For sales products and contents registered by the seller, PrestoMall run by Presto Mall has no responsibility on any of the registered contents.