Good Morning Vgrains 1kg + Vhalia 1kg + 1 Lee Chong Wei Cup
This set contains :
1 X Good Morning Vgrains 1kg
1 X Good Morning Vhalia 1kg
1 X Lee Chong Wei Cup (Limited Edition)
GOOD MORNING VGRAINS 1KG
Healthy & DELICIOUS drink for the whole family

HEALTHY EYE PROTECTION
EXPLORE THE BEAUTY OF THE WORLD THROUGH BRIGHT EYES WITH PURPLE SWEET POTATO FOR ANTIOXIDANTS AND

BLUEBERRY AND LUTEIN FOR EYE PROTECTIO

N!
Whole grains can be delicious!
There is a saying, "Tasty drinks are unhealthy; healthy drinks do not taste good". Commonly whole grains give us a perception of not tasting good.
However, GoodMorning VGrains 18 Grains is a healthy and nutritious whole grains drinks with a heart-warming and delicious taste.
VGrains 18 Grains is made up from 18 types of premium whole grains with 5 colours of phytonutrients. It is also added with 7 unique ingredients including purple sweet potato, blueberry, lutein, calcium, soya lecithin, prebiotic inulin and water soluble fibre.
Nutritious beverage with simple preparation (within 5 minutes) may become everyone's great companion!
Working adult as breakfast or tea

Student who rush to school

Long hours spending with the electronic devices (Lutein and blueberry are food for eye protection)

Elderly

People who sick: High cholesterol, High blood pressure, High sugar levels

Health conscious person

Constipation
GOOD MORNING VHALIA 1KG
GoodMorning VHalia 18 Grains is a nutritious ginger-grains beverage made from selected 18 types of premium grains with five colours of phytonutrients with high quality ginger.
GoodMorning VHalia 18 Bijirin adalah minuman halia-bijirin yang komprehensif dengan 18 jenis bijirin penuh yang kaya dengan lima warna fitonutrien serta halia yang berkualiti tinggi.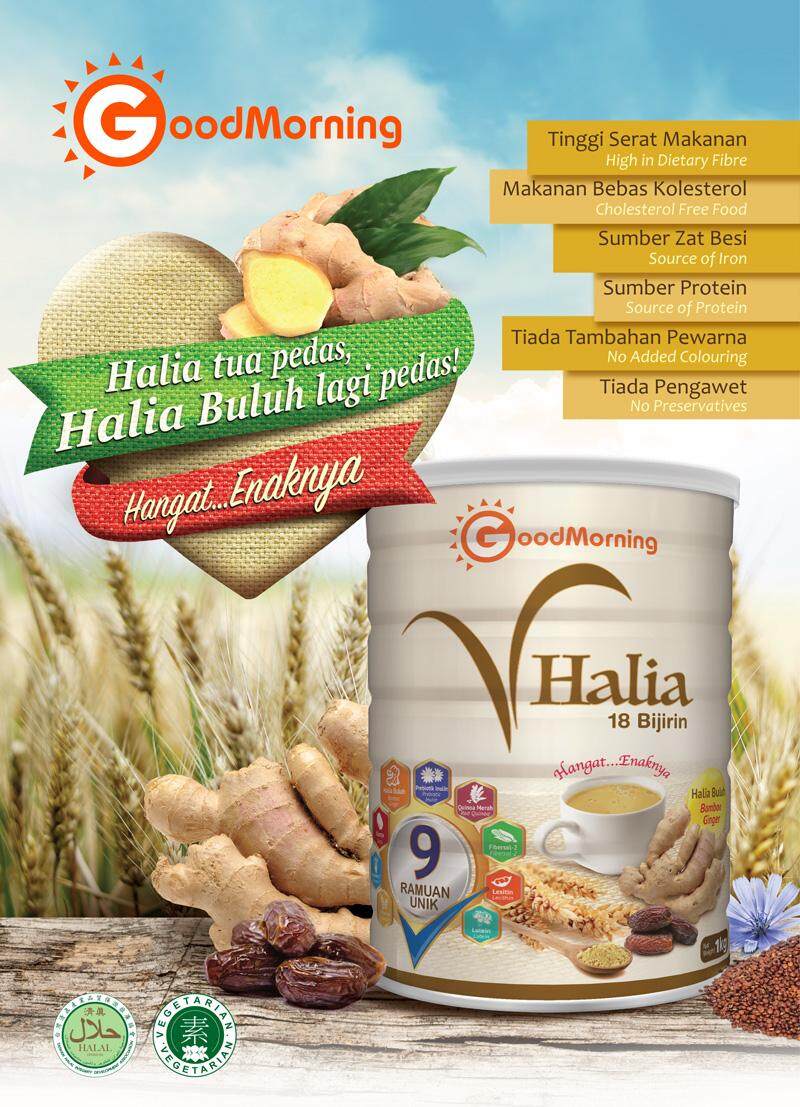 In tropical countries, people get used to consuming 'cold' food and staying in air-conditioned room due to hot weather, which will bring harm to bodies in long term.
Di negara tropika yang bercuaca panas, ramai yang gemar memakan makanan 'sejuk' dan berada di bilik yang berhawa dingin. Pada jangka masa yang panjang, ia akan menyebabkan badan menjadi lemah.
High in Dietary Fibre | Cholesterol Free Food | Source of Iron | Source of Protein |
No Added Colouring | No Preservatives
Tinggi Serat Makanan | Makanan Bebas Kolesterol | Sumber Zat Besi | Sumber Protein |
Tiada Tambahan Pewarna | Tiada Pengawet
What are Whole Grains?
Grains are the staple food to all mankind –
Whole grains consist of the entire seed of the plant and is also the source of energy to life.
Apakah Bijirin Penuh?
Bijirin adalah makanan ruji kepada semua manusia –
Bijirin penuh mengandungi keseluruhan benih tumbuhan dan juga merupakan sumber tenaga kehidupan.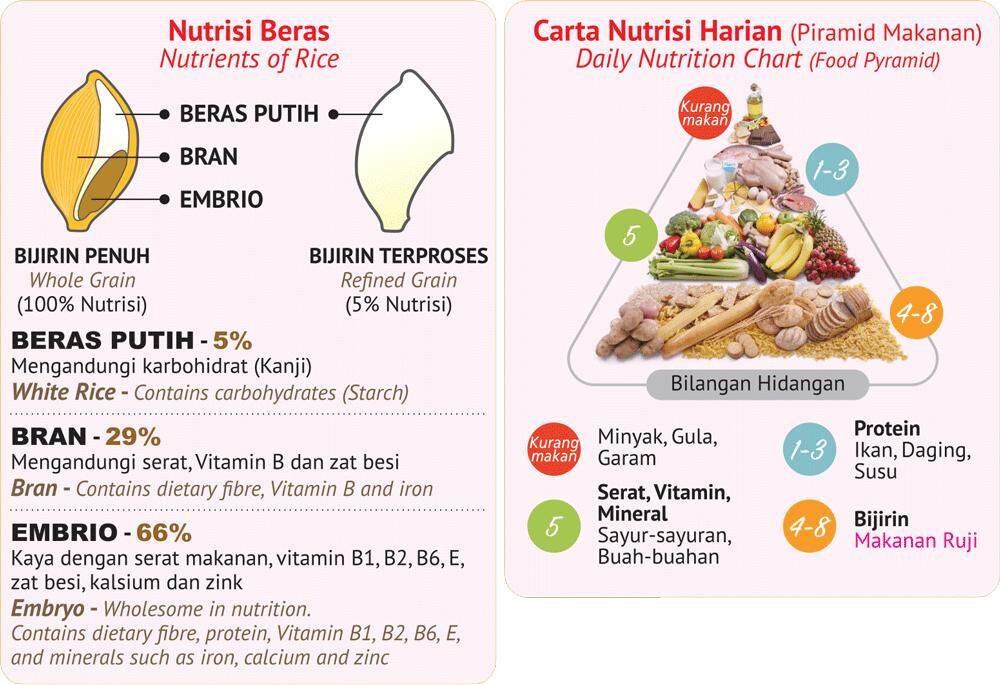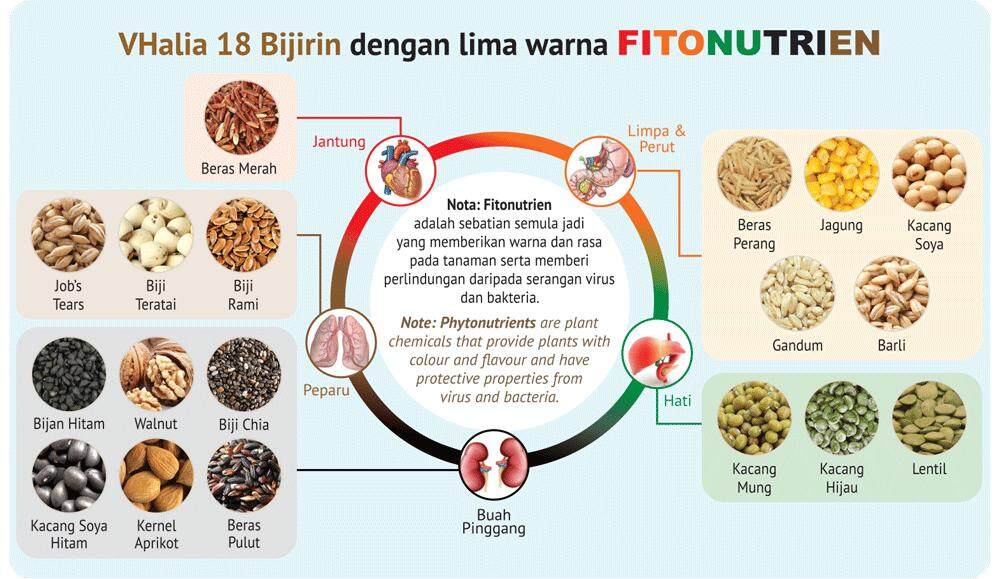 Mengandungi makanan Sunnah yang memberi kesihatan iaitu




Suitable for all ages. Sesuai untuk semua peringkat umur.




Mix 3 scoops (-25g) of VHalia with 150ml warm water. Ice may be added as an option.



Already purchased this product? Write your review here.
Read more

Read less
/300
(this will only be visible between you and seller)
All your Q&A posts are available in My Page > My Shopping Talk > My Q&A History.
Once seller replies, you will be notified by email.
Your posts may be removed and PrestoMall reserves the right to suspend your account if inappropriate contents are found;

Any implication of direct trade / discounts with your contact number, email address, or any offline contact point.
Any indication of libel/defamation, inappropriate price comparison, unrelated ads, etc.
Seller's Information
Seller
BIG CARE MART
Shipping from
Return/Exchange address
Notice on Return/exchange
Return and exchange policy
If wrong items or defective items being delivered, we will gladly accept returns of packages on the following conditions:
• Reported within 3 days from the date of receipt
• Goods' labels, serial number and security mark is able to be checked
• If the wrong item is being sent by us, we need to collect the whole set of the package together with the original invoice, courier slips and any other relevant documents for our inspection purpose
Replacement will only be issued if the products being returned are not used or altered, in the same condition you received it and in the original box and / or packaging. Delivery costs of any return will be borne by you. Returns must be sent back to us only via reliable and traceable shipping methods. We will not be responsible for refunding any untraceable returned item.
Please contact us and send proof of picture to our email [email protected] upon receipt of defective or wrongly sent items. You have to include the following details in the email:
• Order no:
• Contact no:
• Product to return or exchange:
• Reason for return or exchange:
Refunds generally take 7 days, however may take up to 14 days to complete during peak times. We will NOT accept returns of items with obvious signs of use.
Once we receive your request for return or exchange, we will perform the necessary inspection. Once the claim is proven and validated, your refund/replacement will be processed and we shall contact you to arrange the refund/replacement.
PrestoMall Return/Exchange Policy
Cancellation

Request for cancellation if product has not been dispatched after payment completion.
Strictly no cancellation for E-voucher after purchased.

Return

Request for return within 7 calendar days following delivery date.
Check seller's approval on buyer's request.
Buyer sends product in question to seller.
Seller receives and checks returned product.
Seller approves return and return is completed.
Strictly no return or refund for E-voucher.

Exchange

Request for exchange within 7 calendar days following receipt of delivery.
Check seller's approval on buyer's request.
Buyer sends product in question to seller.
Seller receives and checks returned product
Seller send new product to buyer, and buyer receives it, and exchange is completed.
No exchange for E-voucher purchased.
How to Request for Cancellation/Return/Exchange
You can request for cancellation after completing payment and if product has not been dispatched by then, cancellation request is approved and you can receive refund.
But, in case seller has already dispatched product, cancellation request can be rejected.
You can request for return after obtaining product, you should send the product in question to seller.
After seller checks if returned product is flawed, and approves your request, return is completed and payment is refunded.
You can request for exchange if wrong product is shipped, you should send the product in question to seller.
After seller checks if returned product is flawed, seller approves your request, and re-sends new product.
Criteria for Return/Exchange
You can request for return/exchange within 7 calendar days following delivery date. But return/exchange request cannot be made in following cases:
When request due to change of mind is made after 7 calendar days following delivery date
When product is used, destroyed or damaged
When tag attached to product is removed or package of product is opened and product value is damaged
When sealed package is opened or packaging materials are lost
When too much time has passed and product value has so decreased that its re-sale is not possible
When return/exchange request is made for customized product such as hand-made shoes or accessories
When components of product (including free gift) have been used or lost
When buyer did not follow instructions included in product
As e-voucher products are immediately sent to your e-mail, returns/exchanges are not available. Please take note of this before purchase, and input your e-mail address correctly.
As Mobile Top-up products are directly reloaded on your cell phone number, returns/exchanges are not available. Please take note of this before purchase, and enter your cell phone number correctly.


For any inconvenience regarding Cancellation/Return/Exchange, please email to [email protected] and we will do our best to help you.
Notice
Please note that, direct transaction with the seller without using PrestoMall payment service can cause problems such as; not receiving the product, receiving different product etc.
For sales products and contents registered by the seller, PrestoMall run by Presto Mall has no responsibility on any of the registered contents.